Mixed number is a combination of a whole number and a proper fraction.
For example: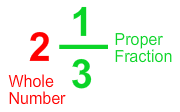 To convert an improper fraction into a mixed number, divide the numerator by the denominator.
The quotient becomes the whole number, the remainder becomes the numerator, and the denominator remains the same.

To convert a mixed number into an improper fraction:
Multiply the fraction's denominator by the whole number part, and add the product to the numerator. This becomes the numerator of the improper fraction.
The denominator remains the same.