Matter is everything that takes up space and has mass.
When things take up space, we often need to measure them.
We need to find out how much space they take up!
VOLUME
Volume is one way that we can measure matter.
Volume answers the question:
How much space does an object take up?
Example
Which of these objects takes up the most space? The desk, the bed, the bookcase, or the nightstand?

Obviously, the bed is taking up the most space. It looks like the bookcase is next. Then it's the desk and the nightstand.
MASS
Mass is another way of measuring matter.
Mass answers the question:
How much matter does the object have in it?
Or, how heavy is it?
We use a measuring scale to measure the mass of an object.

We can measure mass of different objects and know which ones are heavier and which ones are lighter.
Example
Heavier Objects

Lighter Objects

TEMPERATURE
Temperature is another way of measuring matter.
Temperature answers the question:
How much hot or cold an object is?
We use a thermometer to measure the temperature of an object.

Example
Let's see how these food items are arranged according to their proper temperature.
Ice cream is very cold. So, it is put in the freezer.

Lettuce is cool, so we put it in the fridge.

Potato chips are at room temperature and can be kept in the cabinet.

Pot of soup is always served hot, so we keep it on the stove.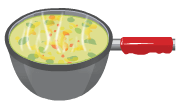 Another way of measuring matter is density.
DENSITY
Density is the word we use to tell how tightly packed things are.
Solids, liquids, and gases have different densities.
When something has more density, it sinks, and something less tightly packed will float.
Example
Think about the oil floating on soup.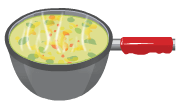 Which one do you think has more density, the oil or soup broth?
Soup broth is denser than oil.
Now, let's compare the density of two different solids, a block of concrete and a block of styrofoam.

These two blocks have the same volume. They take up the same amount of space.
But which has more density? Which is more tightly packed? Can you guess?
Concrete block is more dense than a styrofoam block.
Now let's compare the density of different gases, hot air above fire or cold air above ice?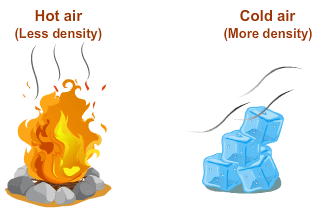 Cold air above ice is denser than hot air above fire.