Comparing Clocks
Consider the following clocks showing the times of two things done by Maria in the evening.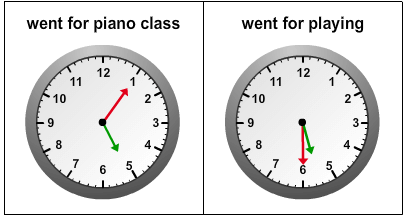 Let's find what did Maria do later.
The time shown by first clock is 5:05.
The time shown by second clock is 5:30.
Now, since 5:30 is later than 5:05,
Maria went for playing later.
A B C D E F G H I J K L M N O P Q R S T U V W X Y Z
Help
The correct answer is
Remember :
The smallest number is the one that comes first while counting.
Solution :
To arrange the given numbers in order from smallest to greatest, find the smallest number among all the given numbers.
21,27,23
21 is the smallest number.