The capacity of an object is, the amount that the object can hold.
For example: Consider this water bottle.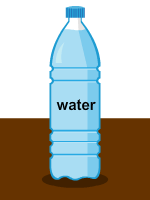 Also, consider these measurements:
(a) 20 fluid ounces (b) 10 gallons
Out of these, let's see which one is the better estimate of the capacity of this bottle.
20 fluid ounces is the better estimate for the capacity of the bottle.

10 gallons is a very big quantity.

So, the better estimation is 20 fluid ounces.