UNDERSTANDING PROBABILITY
Understanding Probability
Probability is the likelihood or chance of something happening.
For example: Suppose we select a marble without looking.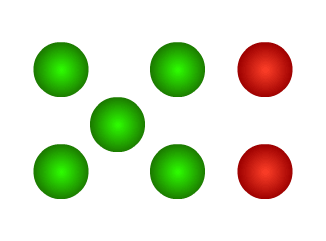 Let's find how likely it is that we will pick a red one.
First count the total number of marbles.
There are 7 marbles.
Out of 7 marbles, 5 are green and 2 are red.
Since, there are more of green marbles than red marbles, so, it is less likely that you will pick a red marble.
A B C D E F G H I J K L M N O P Q R S T U V W X Y Z
Help
The correct answer is
Remember :
The smallest number is the one that comes first while counting.
Solution :
To arrange the given numbers in order from smallest to greatest, find the smallest number among all the given numbers.
21,27,23
21 is the smallest number.