Word Search Maker for Kids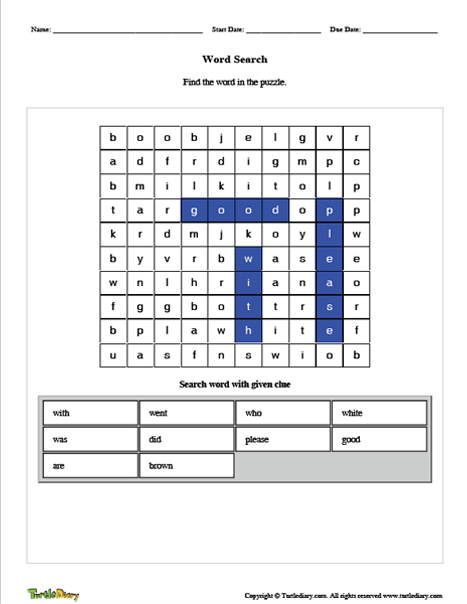 Copyright © Turtlediary.com.

All rights reserved www.turtlediary.com
Name: ___________

__________

___________

________
Start Date: _________

____

_____

__
Due Date: _________

____

_____

__
Search word with given clue
Enter Word Search Content
Word Search Maker for Kids
Turtle Diary's Free Word Search Generator allows you to create Free Printable Word Searches for kids. Whether you need a fun way to recognize sight words or practice spelling words, the Word Search puzzle Maker can be used to create either a free printable or a game your kids can play online and find the hidden words.

Use your own word list or choose 'spelling words' or 'sight words' and a grade level for an age-appropriate list of suggestions from which you can pick and choose. For more advanced learners, the word searches can be customized for larger grid sizes, upper or lower case, and grade-appropriate levels of difficulty.

You can even use synonyms or antonyms, or create your own clues to make the puzzle suit your needs. To use, first choose a title for your word search and add a description to explain exactly what you want your student to do. Then, from the next dropdowns, select your letter case (depending on age-level and letter recognition) and the size of the grid you prefer.

The older the student, the larger the grid to increase the difficulty. If you need suggestions of words to find, you can use the suggestion box in the middle of the page to customize by grade level, type of clue, and category of word. Or, if you know what you want to use, simply type it in the numbered table below. After hitting create, you have the option to print your word search or play it online.

Turtle Diary's Free Word Search Creator allows you to create a fun way for your students to learn while increasing their word knowledge and recognition.
How do I create my own word search?
You can create your own word search for free on Turtle Diary using the Word Search Puzzle Generator. This word search maker for kids allows you to control all of the details, like grid size, title, case of letters, and can even use clues or synonyms and antonyms for more advanced learners. It even has an option to suggest words to use! When you're finished entering details, all you have to do is push a button, and you have your own printable word search!
Are there free word search printables?
Yes! Turtle Diary offers a free word search maker with lots of customizable options that you can use for a variety of lessons. With this word search creator, you make your own printables with whatever words you choose or it can generate age-appropriate word choices. This gives you the flexibility to print a variety of different puzzles using whatever words your kids need to practice.
Is the Word Search Creator free?
Yes! It is absolutely free! It offers lots of customizable options for each creator so that you can create your own word search for kids using the words that they need to practice. When you're finished entering the words or selecting your suggested words, you simply hit the 'Create' button and a free word search printable is made just for you!
Can I play the word search online after creating it?
Yes, you can play the word search online as soon as you hit the 'create' button or you can choose to print it out. There is a button that appears on the bottom of the screen of the word search maker for kids that allows you to play online as soon as you create your puzzle. This is a great option for kids who love to play online and need to practice their spelling or sight words.
Import your data
Copy and Paste your data here (from Word, Excel, Google Docs, etc.)
Between term and definition