Login as parent/teacher to assign this.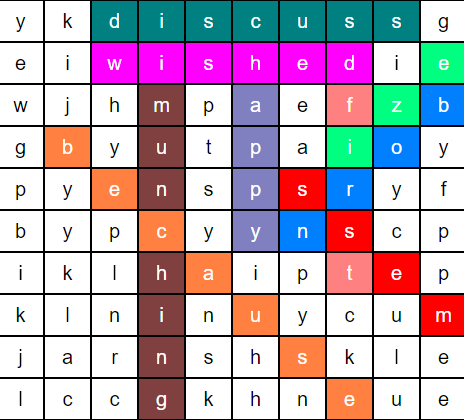 Word searches are irresistibly fun. You can find them almost anywhere, for any theme, at any challenge level. But did you know that they have numerous intellectual benefits? Like any puzzle, they are a great way to keep your brain active and develop problem solving skills.
They're the perfect boredom buster for long waits for car rides, especially because they provide a cognitive challenge, instead of another round of endless scrolling through social media.
For kids, they are a great tool in language acquisition. They offer a chance to practice spelling: children have to pay close attention to every letter in the word to ensure they're circling the correct one. Themed words to find can include new vocabulary words. For example, if the search focuses on occupations, students might learn about unfamiliar jobs such as a radiologist, butcher, or florist.
Word searches also help children increase their working memory and their brain processing speeds. Turtle Diary offers an incredible array of easy word search puzzles, all online and all completely free. Kids can play on any device that has an internet connection.
You can even make your own free printable word search puzzle! Are you taking a family vacation to the mountains and preparing for a long road trip? Create your own that includes related words such as 'ranger' and 'peak.' You'll have another fun activity for the drive and a chance to introduce unfamiliar vocabulary your kids might hear on the trip.
It's easy to print the worksheet out so your kids can still work on it if you lose cell service along the way. Use any of the Turtle Diary word searches to improve your child's cognitive functions and language skills. Best of all, use them to make learning a little more fun and engaging!
How can I teach students to find the hidden words?
Most students are sponges who can learn any new skill on their own. Once they've been shown, students are ready for the independent fun of completing it! Sometimes it helps to provide tips when students begin to feel frustrated, such as looking for letters that are side-by-side in the word to also be side-by-side in the word search.
Can students play word search games online?
Students can play a variety of word search puzzles online at Turtle Diary. Any computer or tablet with internet access is perfect to access the dozens of games available. We have games available to interest students in Kindergarten, 1st Grade, 2nd grade, 3rd grade, 4th Grade and 5th Grade.
Do you have free word search games for kids?
All of the games are free on Turtle Diary! Students can visit the website anytime to have complete access to all of the games available. Some games focus on a theme, such as occupations or flowers, while others focus on finding related words from a word family.
Can I create my own word search?
Yes! At Turtle Diary you can easily create your own. It's easy to personalize by selecting the grid size, title, and even choose upper- or lowercase letters and sight words. You can have students search for the word listed or increase the challenge by having them find an antonym or synonym.
Are word search printables available for free?
Once you've made your personalized word search, it's easy to download and print the word search. These are perfect for early finisher work, morning work, literacy centers, and fun during a rainy recess. Printing your personalized word searches allows you to easily differentiate for students at all reading levels.
Our Educational Resources