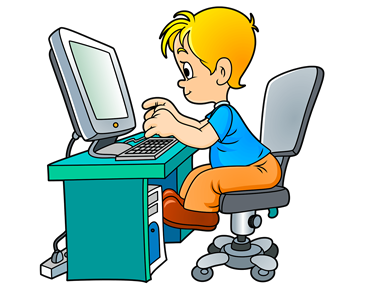 Top Free Typing Games for Kids
Typing games are a fun way for kids to learn how to type. There are various free typing games available online to help your child gain the skills they need to type.
Kids love to play. Because of this, typing games have become popular among parents and educators. Children can play and learn at the same time. These games will keep them engaged as they develop valuable skills. When growing up in our technology-driven world, children are going to encounter digital learning. Typing games for kids can help prepare them for their future.
Why should my kid play free typing games?
In today's world, typing is a valuable skill to have. Teaching children to type at a young age will allow them to excel in the digital world as adults. Playing these games will improve their typing fluency. By using games to teach typing skills, you can create a fun learning experience. They will learn to focus as they enjoy playing exciting typing games.
These free kids typing games will provide with the building blocks they need to read. When playing these games, children will become familiar with the alphabet. Typing games can also improve hand-eye coordination and finger dexterity. Your child's motor skills can improve significantly. Playing typing games is a fast and easy way for kids to gain the skills they need to master typing.
Free Typing Games for Kids
There are tons of FREE kids typing games available online. This list explores the most popular free typing games for kids to learn how to type faster.
This aquatic-themed game is perfect for beginners learning to type. Your kid will have a blast as they pop bubbles. To free a fish, you must type the keys within the bubbles, and they will pop. You must type the keys before the bubble bursts, so your child will be challenged by the race against time.
Learn Keyboarding is an easy game for first-timers that can help kids become comfortable using a keyboard. The visual display shows letter placement on a standard QWERTY keyboard. Learn Keyboarding makes it fun and easy for children to familiarize themselves with typing.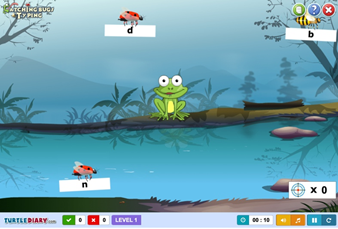 This fun multi-level game is an excellent way for children to improve hand-eye coordination while learning to type. Your kids will have so much fun helping the hungry frog catch flying bugs. To catch a flying bug, you must type the letter displayed on the bug. Once ten bugs are captured, your child can move up to the next level with a slightly increased difficulty level.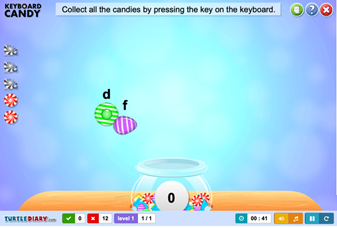 Your child will love playing this colorful game—especially if they have a sweet tooth! This game is a little challenging, as you must be sure to avoid the bombs when collecting candy. To catch a piece of candy, type the letter it displays. Once you collect 25 candies, you are free to move to the next level. The flying candies in this game are excellent for hand-eye coordination development.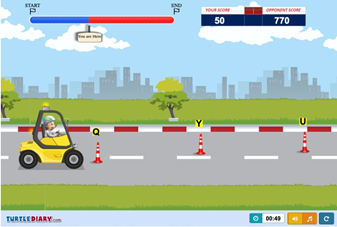 This action-packed multiplayer racing game will challenge your child to identify and key in the letters before the race car crashes into them. You can gain points by collecting letters. The player who earns the most points wins. Learn to think quickly with Keyracer! Kids love this exciting typing game, and this fast-paced adventure will help them master typing in no time.
Teach your kids to type today!
All these kids' typing games are free and available on Turtle Diary. Your kids will love playing games as they learn critical developmental skills. Typing games can help improve your child's typing fluency.
So, what are you waiting for? Let's get gaming!