A mixed number contains both a whole number and a fraction.
Example 1
If Alec ate 2
candy bars, 2
is a mixed number because 2 is a whole number and
is a fraction.

Let's look at a picture of 2
candy bars: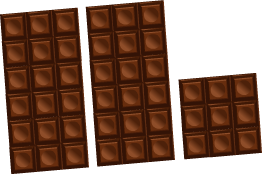 As you can see, the large number (the whole number), indicates that he ate 2 entire candy bars.
The fraction
indicates that he also ate
of another candy bar.
Let's look at a few more examples of mixed numbers.
Example 2
What mixed number is shown in this picture?

Solution :
There are 3 full glasses of water, so our whole number is 3.
Now, the last glass is
filled.

The mixed number shown is 3
.
Example 3
Lydia ate 1 apple and then finished
of another apple. Write this as a mixed number.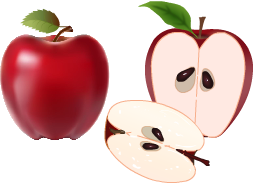 Solution :
Our whole number is 1 because she ate 1 full apple.
The fraction is
because she ate another
of an apple.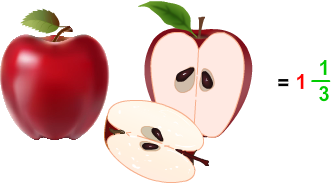 Thus the mixed number is 1
.
Example 4
Solution :
Since 4 is the whole number, we must draw and color 4 whole boxes.

Then for the fractional part, 3 is the denominator so we draw one more box and split it into 3 pieces.

2 is the numerator, so we must color 2 of those parts.